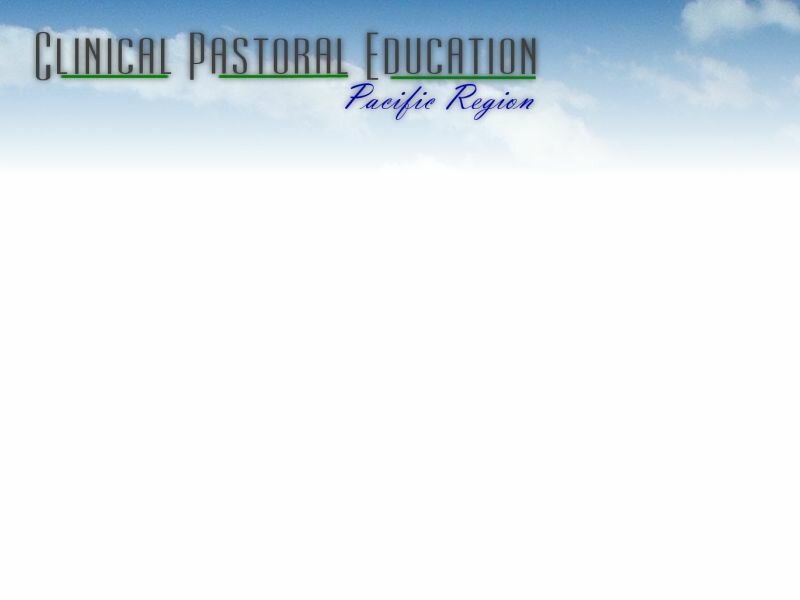 About Clinical Pastoral Education
Clinical Pastoral Education is a national multi-faith theological educational organization. The important documents are people and their experience in a rapidly changing world. CPE is a process in which religious professionals integrate personal experience, faith tradition, sacred insights, theology, psychology in the crucible of human living.
The Accredited Centers of the Pacific Region are located in Parishes, University Medical Centers, Community Hospitals, Veterans Administration Hospitals and on the streets of the Inner City.
The majority of CPE students enter to meet Seminary and Ordination requirements. Year long residencies prepare religious professionals for in depth ministries in settings of significant human encounters. Persons desiring ministries in Institutional settings or Careers in Pastoral Supervision continue through the stages of Supervisory Education to Certification by the National Association for Clinical Pastoral Education. The College of Chaplains requires four units of CPE for recognition as a Board Certified Chaplain. Clergy and laypersons interested in Spiritual Care take CPE for professional and personal growth.
A unit of CPE is 400 hours of supervised spiritual care to persons in crisis or change. The CPE process includes: Group Interaction, Didactic Instruction, Focused Reading, Clinical Experience, Verbatims and Evaluation.
Fees (usually about $500-$650) are determined by the Center. In some cases the payment is made directly from the Seminary to the Center.
The centers of the Pacific Region are accredited to offer CPE at levels appropriate to their setting and the interests of their supervisors.
Accredited CPE is recognized for schools accredited by The Association of Theological Seminaries, The Department of Health Education and Welfare, The American Association of Pastoral Counselors, and the College of Chaplains. A unit of CPE has numerous professional applications.